We worked with GetDanceWear to develop a month-long social media marketing campaign. Our strategy was tailored to align with current business objectives and promotions and how they could integrate seamlessly with upcoming holiday promotions.
Our team worked to develop a visually impactful branding identity that was scalable across social media platforms. Utilizing a variety of media types ranging from static graphics to motion graphics as well as multiple delivery methods from feed posts, social stories, and cross-posting with social media influencers, we ensured fresh content and engagement on multiple platforms over the course of the month-long campaign.
Client
What we did
Brand Design
Social Media Branding
Marketing Strategy
Social Media Marketing Campaign
Media Kit & Templates
Prior to the development of the campaign the team did an in-depth evaluation of the target demographic as well as the niche social community. In conjunction with an audit against competitive social accounts the team determined best practices, popular hashtags, and language relevant to key interests to help define and shape the brand pillars of the unique community of dancers. A systematic approach was then developed to engage audiences and influencers, spread awareness, and drive sales during the holiday season.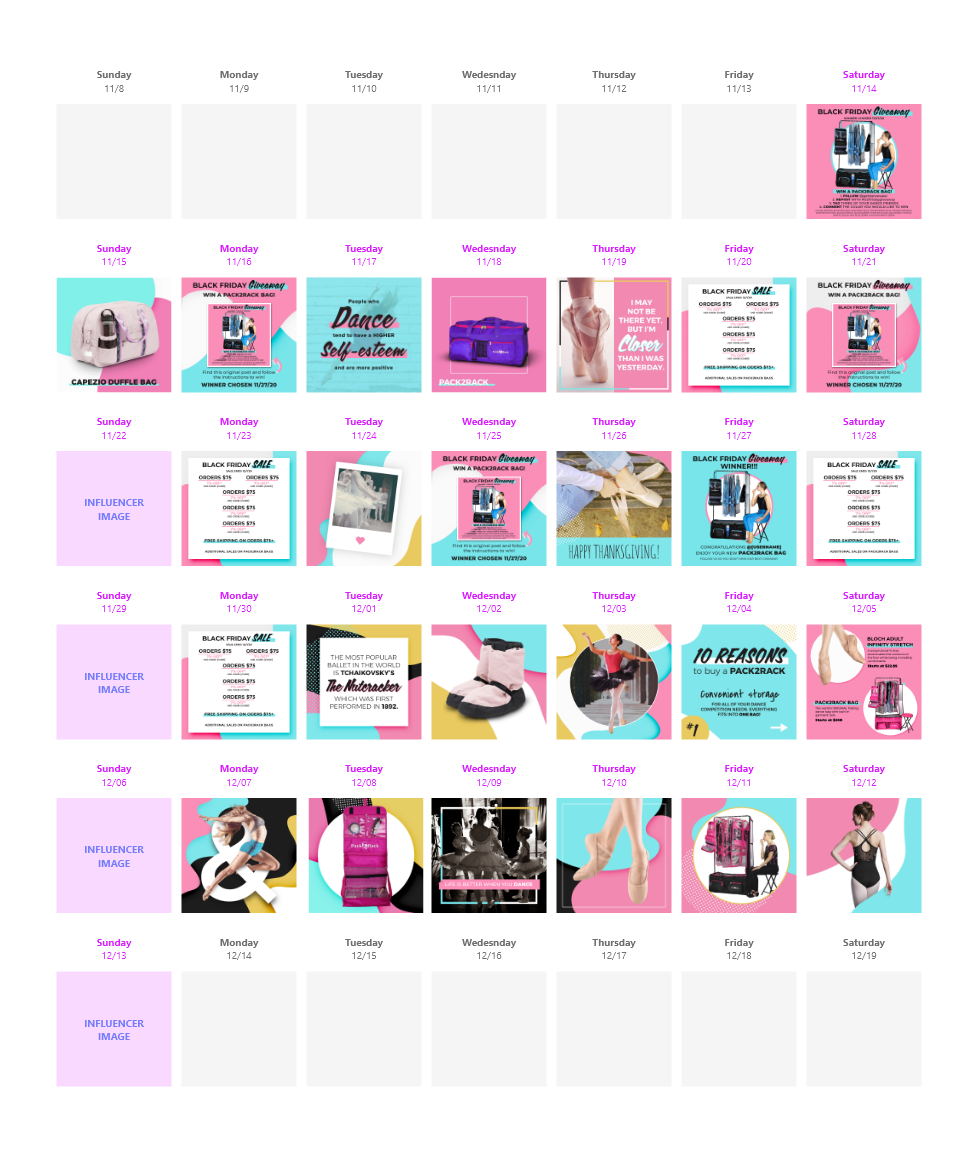 Our team met with the client on a weekly basis to recap the performance of the ongoing campaign. Metrics were gathered on a regular basis and tactics were adjusted in real-time to influence the success of future activations.
Key posts were boosted for additional impressions to help drive sales and increased reach in the target demographic.
Upon completion of the campaign our team met with the client for an in-depth analysis of campaign performance. Taking a deep-dive into the metrics, looking at top organic posts, top performing boosted posts, and measuring the increase in impressions and engagements we could provide a blueprint for future success.
Residual Studios provided a media toolkit for the client to continue posting consistent on-brand content that their audience has recognized and engaged with.
We would love to work with your company to develop and manage an epic custom marketing campaign! Contact us today and let's discuss how we can integrate with your team to help your business meet and exceed your upcoming goals!
Contact Us